Quality of medical products (including drugs and specialized food)
International procurement: the MSF OCA Policy for the Procurement of Medicines requires international procurement to be the first option, given the known risks of the pharmaceutical markets in countries where MSF works.
Prequalification: all pharmaceutical products, such as drugs, need to be either prequalified by the World Health Organization (WHO) or registered in highly regulated countries (such as European Union member states, Switzerland, or the USA via its Food and Drug Administration), or else validated through MSF's own qualification scheme for pharmaceutical products (see below).
MSF Qualification Scheme for Pharmaceutical Products: any product line (manufacturer/item combination) supplied by the MSF Amsterdam Procurement Unit through international procurement will first need to be approved by MSF pharmacists on the basis of an audit/inspection of the manufacturing site (by qualified Good Manufacturing Practices (GMP) inspectors) and an evaluation of the product dossier for the product concerned. These evaluations are carried out by a selected group of MSF pharmacists. The procedure applies to all sources, whether manufacturers or wholesalers. The scheme aims to control the most important aspects of all stages of the product supply process, ranging from selection of sources, purchasing, receipt and storage to distribution. Besides these aspects, storage and transport of cool items, required licenses, insurance, controlled substances and dangerous goods regulations, shelf life and recall procedures need to be managed.
MSF Qualification Scheme for Medical Devices: a qualification scheme similar to that for pharmaceutical products is currently in the development and trial phase.
Quality of non-medical products
MSF OCA uses a standardization process to safeguard the quality of the equipment used in our field projects. The process consists of clearly defining the most suitable equipment for a specific situation with which we deal in our work. We use the term "standard article" to refer to an article that has gone through the standardization process and is regarded as the best choice for use by our field projects. Standard articles can be classified as either generic products or specific products: • Generic product: a product for MSF's supply that meets the technical specifications as defined in the standardization process, regardless of its brand. • Specific product: a product for which in the standardization process only a specific model or a specified brand has been selected for MSF's supply, for example computer and communications equipment, cold chain equipment and vehicles etc.
Shelf life
All pharmaceuticals and many medical devices have expiry dates. The MSF Amsterdam Procurement Unit aims to deliver these products within a timeframe that enables the project teams and our patients to consume them well within their shelf life. Therefore we require our suppliers to deliver goods with an expiry date that is as far in the future as possible. On the date of delivery and where applicable, goods must have a remaining shelf life of at least two years or 75% of the total shelf life, unless agreed otherwise. Products within one delivery should originate from one production batch where feasible.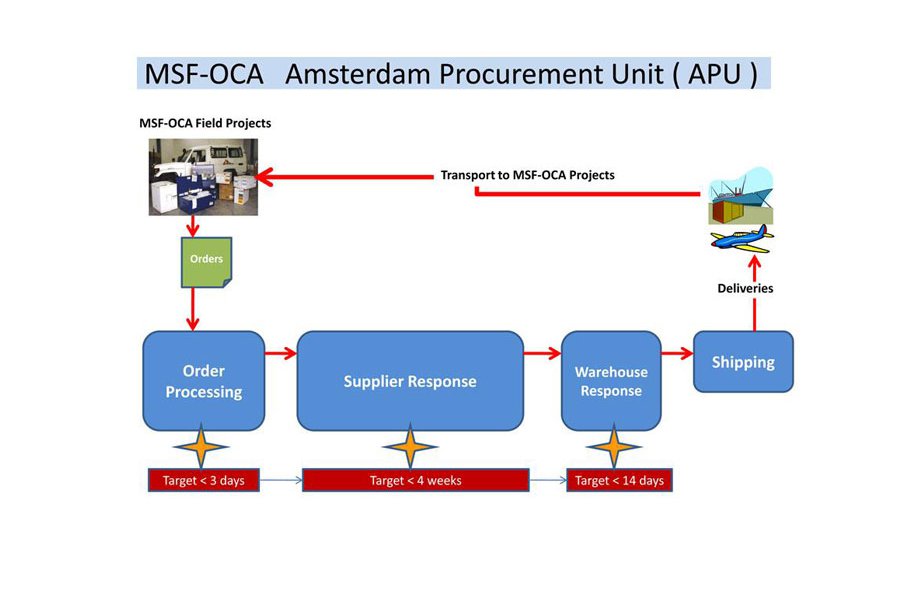 Delivery lead time
For MSF's operations, the delivery lead time is defined as the time elapsing between the receipt of an order by the MSF Amsterdam Procurement Unit and the actual delivery to an airport or port in the project country near the headquarters of the mission concerned (capital level). Thus, the delivery lead time can be divided into the time needed for entering the order onto the system, purchase of the goods, transport preparation and transportation itself. As short lead times increase our operational flexibility, reducing lead times is a priority for the unit. New and existing suppliers are therefore requested to adhere to acceptable lead times of less than four weeks for regular orders on a consistent basis.
Please note that the actual delivery to the final destination (field project location) within an MSF project country can take as much as 4 to 6 months.
Availability
Related to delivery lead time, availability refers to the capacity to supply on time and in the desired quantities. In order to safeguard availability, the MSF Amsterdam Procurement Unit may request a supplier to hold stocks of an item or employ other means (within reason) to ensure a sufficient delivery. In our experience, suppliers sometimes cannot provide the huge quantities required when an emergency situation, such as a natural disaster, occurs. Therefore, MSF may request a supplier to stock a larger quantity of an item or items or ensure it has the means to obtain such a quantity swiftly. If sufficient guarantees of availability cannot be obtained from a supplier, the MSF Amsterdam Procurement Unit can pursue multiple sourcing. If availability is seriously impaired, the unit can revert to stocking items itself.
Price
Price is an important parameter for the MSF Amsterdam Procurement Unit. MSF will challenge suppliers on significant price increases and when price benchmarking is regularly practised. However, the unit is aware that the lowest price does not necessarily correspond to the lowest total cost, due to variables such as transport costs and convenience of packaging, all of which it will take into account. We usually ask suppliers to keep their prices stable for a period of preferably one year or longer, except when market prices for the products concerned are regularly subject to extreme fluctuations.
Flexibility
Flexibility in terms of availability, service and responsiveness to specific requests is a valued part of MSF's relationship with suppliers of goods and services. Examples might include a supplier's willingness to accept return of goods after they have been delivered to the MSF Amsterdam Procurement Unit warehouse, or to source products that are not part of the supplier's regular range; or creativity in offering alternative solutions.