Your job
As a mental health officer you will create, implement and improve treatment programmes for patients with conflict-related problems and/or mental health conditions.
Most of MSF's mental health programmes aim to provide people in emergency and conflict areas with acute mental healthcare and psychosocial support. Each programme consists of both a clinical and a social, community-based component. Mental health programmes are integrated into existing medical programmes as well as disease-specific projects targeting people with tuberculosis, HIV/AIDS or other conditions. A substantial part of your work will involve training and supervising local staff who carry out the psychosocial support activities. Data collection, analysis and reporting are an intrinsic part of the role.
Requirements
A master's degree in psychology, or equivalent (postgraduate) qualification in community psychiatric nursing, with strong clinical therapeutic experience; or experience as a psychiatrist
Licensed to work as psychologist or psychiatrist
A minimum of 2 years post-qualification experience in giving therapy to adults and children
Work experience in (social) psychiatry, clinical social work/psychology, psychotherapy, or community psychiatric nursing
Experience with community-oriented approaches and context-oriented information materials
Experience in training, coaching and supervision
Work or travel experience in developing countries
A good command of the English language (minimum B2)
Ability to cope with stress and to organize and prioritize workload
Ability to work in an international team
Willingness to work in an unstable and insecure environment
Availability of at least 12 months
Assets
Demonstrable experience in clinical treatment of clients with trauma and/or with HIV/AIDS and/or tuberculosis
Work experience in a similar non-governmental organization abroad or with clients from various cultures and developing countries
A good command of the French and Arabic language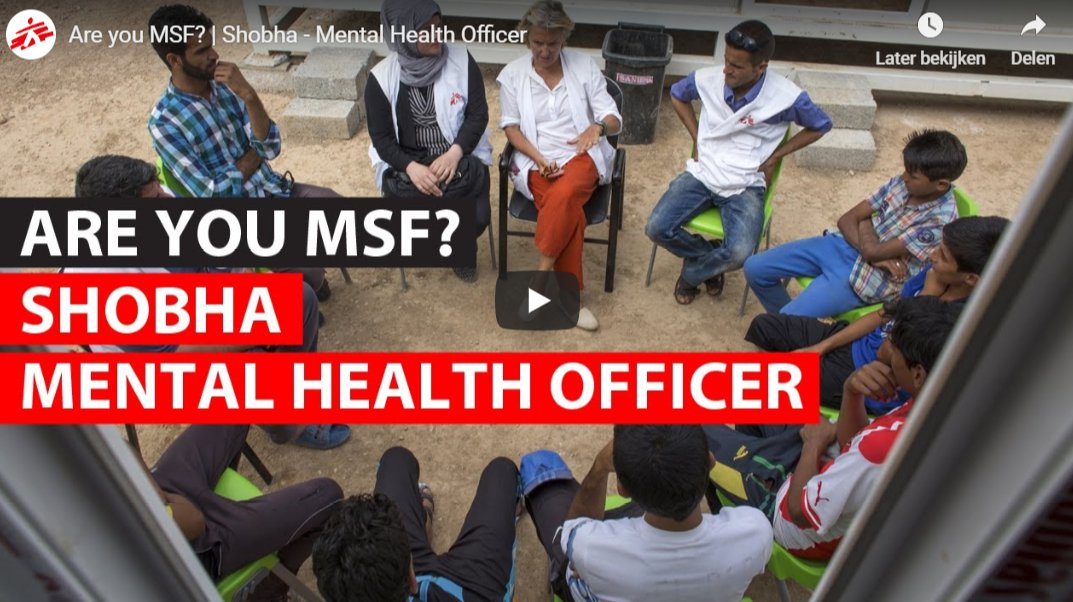 Before you apply
Interested in working with Médecins Sans Frontières, but still have a lot of questions you need answered? Join one of our information meetings or webinars!
What's it like working with MSF?
In most projects you'll be living and working in stressful conditions without many of the things you may take for granted at home.
Read more about work and life in the field.
Your safety and security
When working for us you might experience dangerous situations, such as confrontations with armed men, looting and theft, or violent clashes between armed groups. We take safety and security seriously. Read more about our safety precautions.
Requirements to apply for Mental Health Officer